Hot Spring Baths
Forget Your Worries
In Your Private Spa
Each guest room at Tenshi no Hashigo features its own private outdoor bath so that our guests can relax and bathe for as long as they want. In addition to these private outdoor baths, guests can also use our public Panorama Spa and reserve any of our separate Umi Hotaru private baths.
Panorama Spa
(public bath)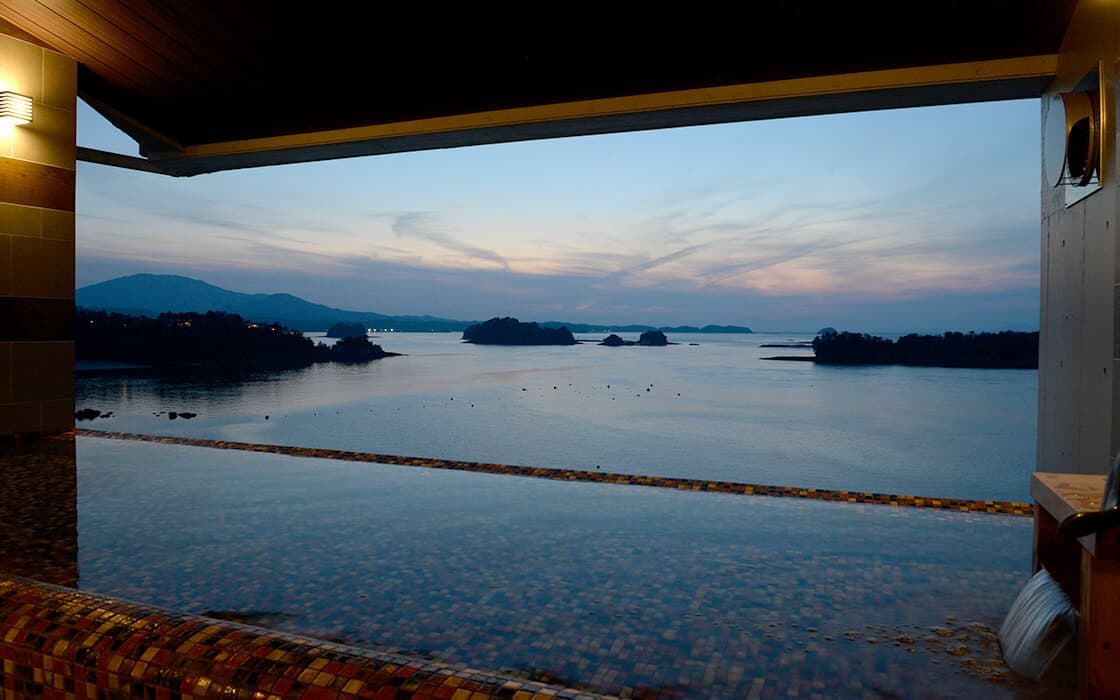 This public bath, located on the 6th floor of Hotel Ryugu, lets you soak in comfort while gazing at stunning views of the Amakusa sunset. The entire western face of the bath is an enormous window, offering wonderful views while you bathe in rejuvenating hot spring waters.
| | |
| --- | --- |
| Hours | 6AM-12AM |
| Water type | Sodium chloride (salt) spring (also known as the "Spring of Beauty") |
| Benefits | Helps with neuralgic pain, muscle aches, joint pain, stiff shoulders, health enhancement, motor paralysis, joint stiffness, bruises, sprains, hemorrhoids, chronic digestive disease, oversensitivity to cold, cuts, recovery from fatigue from post-illness recovery, burns, chronic skin disease, weakness, chronic female disorders, etc. |
| Location | 6th floor of Hotel Ryugu |
| Price | Free for guests |
| Other | Baths are separate for men and women |
Private Outdoor Baths
Ichinoyu

いちのゆ

An outdoor bath crafted from the trunk of an enormous 200-year-old pine, and an indoor bath fashioned from ancient white cedar. The 4th Amakusa Bridge is visible from within the outdoor bath.

Ninoyu

にのゆ

An indoor bath inlaid with magical sparkling stones, like fireflies of the sea. The outside bath is crafted in the shape of a Japanese barrel.

Sannoyu

さんのゆ

A stone bath, edged in wood, and inlaid with magically sparkling stones. Features a terrace with relaxing sea breezes.

Gonoyu

ごのゆ

The largest of our private baths, with a bedrock bath that can fit two bathers. A unique bath with tatami mats in the shower area.

Rokunoyu

ろくのゆ

A gorgeous bath with a Jacuzzi and a wood deck, for a Western resort style of bathing. Also features a bedrock bath that fits two.

This bath is not fed by a hot spring.
Open
11AM-11PM
Water type
Sodium chloride (salt) spring (also known as the "Spring of Beauty")
Benefits
Helps with neuralgic pain, muscle aches, joint pain, stiff shoulders, health enhancement, motor paralysis, joint stiffness, bruises, sprains, hemorrhoids, chronic digestive disease, oversensitivity to cold, cuts, recovery from fatigue from post-illness recovery, burns, chronic skin disease, weakness, chronic female disorders, etc.
Location
Umi Hotaru (separate building from Hotel Ryugu)
Price

60 minutes: 3,000 yen
90 minutes: 4,500 yen